NEWS


Today the U$A's longest homemade primitive electronic poetry & vibes trio launches another scotched taped nuclear audio radioactive front on humanity in the form of a record label.

WOLF EYES will be releasing our newest recorded sea-bottom R & B sound lurch titled "Undertow" on March 24 2017. The release marks the debut of the unit's own LOWER FLOOR MUSIC, a brand new imprint dedicated to the group's cultural vision. The Lower Floor Music label will be curated by Wolf Eyes and feature both new and archival visions from the band as well as work by like-minded artists. Lower Floor Music will benefit from a world-wide distribution deal providing fans of electronic music across the globe access to Wolf Eyes' sound-vision and like-minded community spirits.

The idea of a home-basement for Wolf Eyes is not new. Since 1998 the band has generated a massive tidal wave of releases nearly adding up to over 500 titles; mostly limited from 2-100 copies. Released on American Tapes, Hanson, AA, Warzone, and countless other independent/homemade labels, these documents often vanished forever into the arcane crypts of collectors. WOLF EYES has the unending thirst to explore every shadowy sonic corner of the homespun audio universe.




MOOGFEST 2017


Moogfest has announced that Wolf Eyes will play live and host a workshop on the subject of protest at the 2017 iteration of the Durham, NC festival. Via CLRVYNT, Nate Young explained: "We have never been activists, but in this day in age, it has become clear that we need to use our music as a carrier signal to fight against all forms of prejudice. Rather than boycotting North Carolina, we are excited to participate in building a network of artists and activists by collaborating with Moogfest."


FUCK THE PATRIARCHY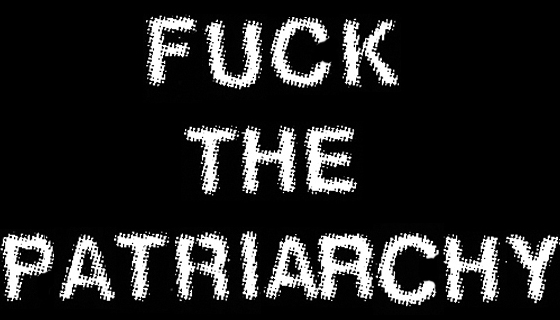 On November 9, we woke up in horror & disbelief that it had happened. For the next 29 hours, everything on the Wolf Bandcamp was FREE - at least everything that we could make free. Since Bandcamp allows a "pay what you want" structure when a release is made available for $0, Wolf Eyes is able to donate $2806 to these groups (we originally reported raising $2605 but Sub Pop graciously donated $201 of sales):

BORDER ANGELS, an "all volunteer, non profit organisation that advocates for human rights, humane immigration reform, and social justice with a special focus on issues related to issues related to the US-Mexican border." We will provide an event split among their current five causes.

RUTH ELLIS CENTER of Highland Park, MI which exists to "provide short-term and long-term residential safe space and support services for runaway, homeless, and at-risk lesbian, gay, bi-attractional, transgender and questioning (LGBTQ) youth.""

PLANNED PARENTHOOD, donating to a local center so that it may go toward a service center.

We'll be posting more info on how to donate directly and receipts from our own donations. If you participated, you rule. We massively appreciate the support you've given.


MUGGER & DREAD TAPES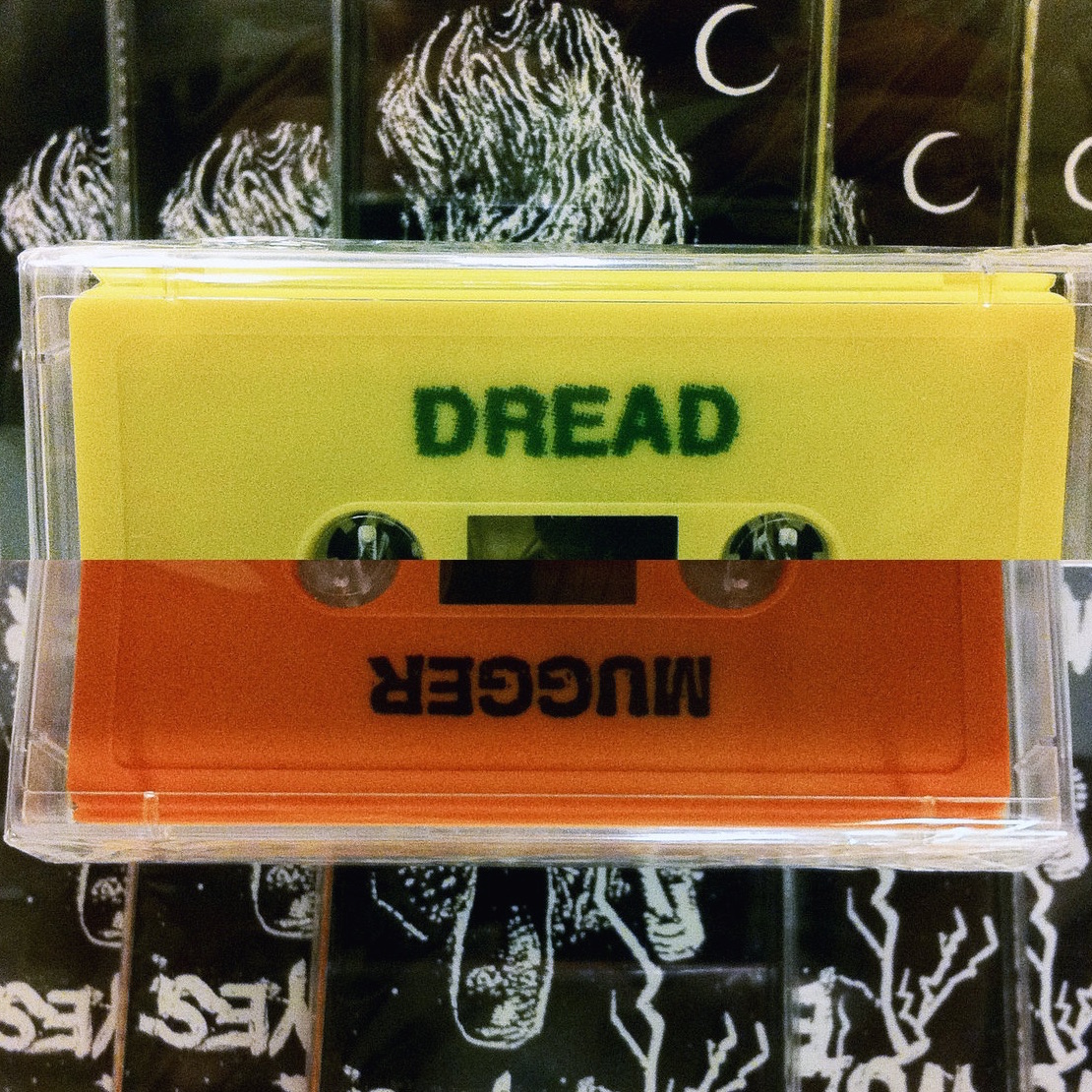 The first emissions from a slew of physical re-releases of Wolf albums past, woefully out of print for too long but not forgotten, Wolf Eyes brings DREAD and MUGGER to cassette for the first time ever with vinyl editions following suit in 2017.

Look right to snag the physical and head to WOLF'CAMP to grip the digital.


LIFE IS A RIP-OFF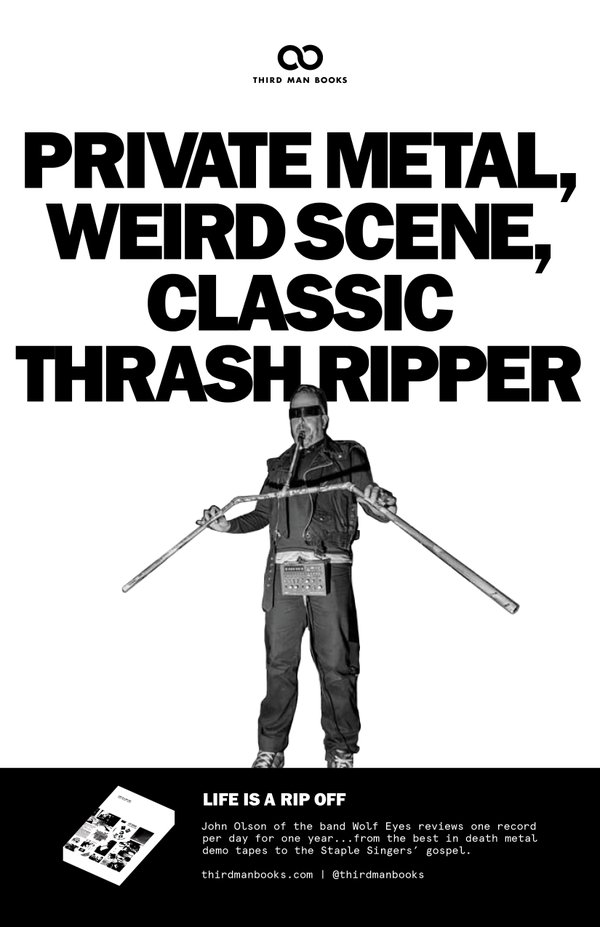 LIFE IS A RIP OFF the complete book is out! A collection of record reviews by the one, the only, thee John "Inzane" Olson aka Inzane Johnny aka American Tapes aka 1/3 of the band WOLF EYES in Olson's inimitable slash 'n' dash slanguage: anecdotal, immediate, reasonable and totally baller. 365 entries, written from Halloween to Halloween, available NOW! Grip it at THIRD MAN BOOKS or from us (look right).


TRIP METAL FEST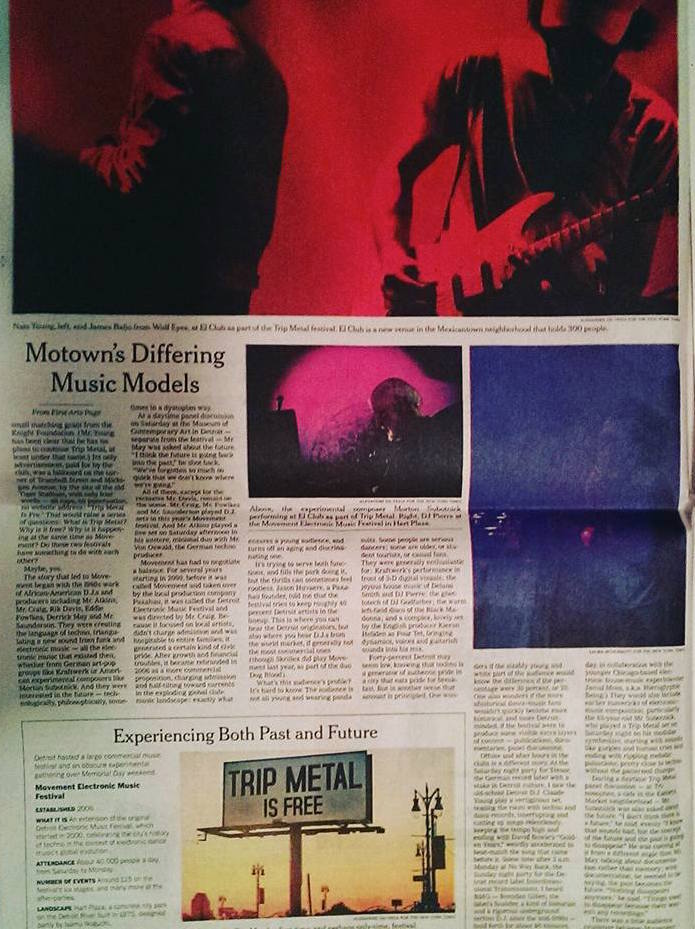 TRIP METAL FEST!! TM Fest was completely inZANE. 110% crazed, put together by Nate Young, Forest Juziuk, and Lindsay "Viki" Karty, and featured the craziest of crazies - peep full line-up of geniuses at TRIPMETALFEST.COM. Could not have been better. Reviews:

★ NEW YORK TIMES by Ben Ratliff
★ THUMP by Colin Joyce
★ SPIN by Raymond Cummings
★ RESIDENT ADVISOR by Matt McDermott



WOLF EYES
CONTACT
WOLFS - wolfeyes(@)wolfeyes.net
MGMT & COMMISSIONS - forest(@)wolfeyes.net
N/S AMERICA BOOKING - forest(@)surefireagency.com
EU BOOKING - mia(@)lb-agency.net



LINKS
TRIP METAL CARTEL
FACEBOOK
BANDCAMP
SOUNDCLOUD
NATE YOUNG
JOHN OLSON
JAMES BALJO
AA RECORDS
AMERICAN TAPES
HANSON RECORDS
TRIP METAL FEST
TM FEST FB
LIVE
23 MAR - UK, London / Rough Trade (Olson reading/Wolf DJs)
24 MAR - UK, London / EXFED Warehouse (New River Studios)
25 MAR - FR, Paris / Sonic Protest Festival
26 MAR - ES, Barcelona / Freedonia
27 MAR - ES, Zaragoza / Las Armas
28 MAR - ES, Madrid / El Sol
29 MAR - PT, Lisbon / ZDB
30 MAR - SK, Bratislava / Fuga
31 MAR - IE, Dublin / DBD (at the Mezz)
1 APR - NL, Den Haag / Rewire Festival
2 APR - UK, Edinburgh / The Banshee Labyrinth
3 APR - UK, Newcastle / Sage Gateshead
5 APR - DE, Cologne / Gewölbe
6 APR - FR, Nantes / Le Pôle étudiant
7 APR - BE, Brussels / BRDCST Festival
8 APR - UK, Brighton / West Hill Hall

15 APR - Hamilton, ON / Strangebarn
16 APR - Toronto, ON / Velvet Underground
18 APR - Montreal, QC / Casa Del Popolo
19 APR - Burlington, VT / SPACE Gallery
20 APR - Portland, ME / SPACE Gallery
21 APR - Providence, RI / AS220
22 APR - Brooklyn, NY / Brooklyn Bazaar
23 APR - Philadelphia, PA / Pharmacy

21 MAY - Durham, NC / MOOGFEST
22 MAY - Richmond, VA / Strange Matter
23 MAY - Pittsburgh, PA / The Shop
24 MAY - Cincinnati, OH / The Mockbee


WOLF'CAMP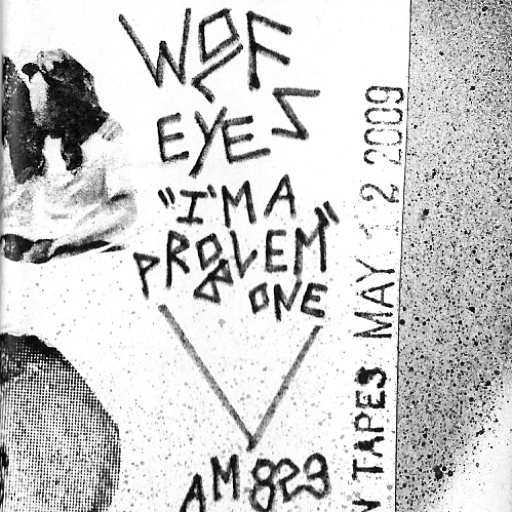 From the depths of the history-basement archives like a possessed witch trapped sleeping in a hidden cabin, from nearly half a thousand releases secretly sleeping in dust in private vaults: a new WOLF EYES BANDCAMP emerges: full re-releases from WOLF EYES home base labels = AMERICAN TAPES, HANSON, AA, GODS OF TUNDRA and OTHERS -- dating back to some of the earliest experiments to current demos.

All taken from the master tapes & direct audio: the closest you can get to a FULL ORIGINAL DOSE OF BURNING YOUR HOUSE DOWN = the onslaught tidal wave of WOLF INZANITY has begun!!! ALWAYS THE SAME: ALWAYS DIFFERENT: NEVER ENOUGH - NEVER AN END. Dive in and EX/IMPLODE!!!!

AM250 - Throats Filled With Concrete
AM374 - Asylum Style Vol 7
AM828 - A Mast On No Shore
AM236 - Dead Hills
AM259 - Interminal Bleedings
GOT?? - Claustrophobic
AM LOCAL WAR-6 - All Identical, None Complete
AM??? - Nog Tumb Rush
AD72 04 - Undertakers Part One
AM287 - Asylum Style Part One
AM177 - Fuck Cleveland
AM186 - Sandpapered Eyes
AM234 - Black Rat Floods
GOT?? - Intrusion
AM181 - Scowl
AM264 - Strangled In Filth
AM590 - Wheels Of Confusion Vol 3
AM341 - Asylum Style 3
CJ001 - Burnt-Out Vol 1
AM566 - Droll Vol 19
HN102 - Early Vol 1
AM823 + AM824 - I'm A Problem Vol 1 & Two
GOT?? - Moods In Free Time
AM297 - Asylum Style Two
AM383 - Live At Banfields East
AM578 - Live Frying: Chicago May 28 2004
AM210 - Live In Providence: Not Our Laws
AM LOCAL WAR-15 - Sept 3
GOT?? - Time Of Clearing
AM351 - Asylum Style 5
GOT?? - Deranged
AM358 - Droll Vol 16
AM229 - Droll Vol 7
AM244 - Snake Transmitters
AM592 - Wheels Of Confusion Vol 1
AM576 - Live Frying: Boston Radio February 19 2001
HN??? - Live Scum
AA??? - Lower Demos
GOT?? - Lung Malfunction
AM249 - Powerless
POL?? - Undertakers Pt.2
HOS245 - Always Wrong



PAST SHOWS
11 Mar - Detroit, EL CLUB
5 NOV - Boston, Brighton Music Hall
18 AUG - Cleveland, Mahall's 20 Lanes
19 AUG - Pittsburgh, Skullfest
21 AUG - Baltimore, Fields Fest
22 AUG - Providence, Tommy's

2 SEP - Detroit, El Club (REGRESSION)

7 OCT - Ann Arbor, Club Above
12 OCT - Chicago, Hideout (REGRESSION + DILLO)

EUROPE 2016

27 APRIL - Switzerland, Luzern @ Südpol
28 APRIL - France, Paris @ Théâtre L'Echangeur
29 APRIL - UK, London @ Tufnell Park Dome
30 APRIL - Italy, Milan @ Sacrestia
1 MAY - Italy, Verona @ Villa Zamboni
3 MAY - Italy, Bologna @ Locomotiv
4 MAY - Italy, Rome @ Dal Verme
5 MAY - Austria, Krems @ Donau Festival
12 MAY - Germany, Berlin @ Berghain
13 MAY - Poland, Warsaw @ Museum of Modern Art
15 MAY - Holland, Tilburg @ Incubate Festival

29 MAY - Detroit, TRIP METAL FEST
4 JUN - Montreal, Suoni Per Il Popolo

SPRING FLING 2016

31 MAR - Knoxville, BIG EARS FEST
1 APR - Harrisonberg VA, Court Square Theatre


AUDIO SOCIAL DISSENT 2016 TOUR

with REGRESSION 696
10 FEB - Columbus, Ace Of Cups
11 FEB - Nashville, The End
12 FEB - Atlanta, The Earl
13 FEB - Orlando, The Social
14 FEB - Tallahass - Club Downunder
16 FEB - Chapel Hill, Local 506
17 FEB - D.C., DC9
18 FEB - Philadelphia, Johnny Brenda's
19 FEB - NYC, Cake Shop
20 FEB - Brooklyn, Rought Trade
21 FEB - Allston, Great Scott

with WOLF EYES
23 FEB - Cleveland, Now That's Class
24 FEB - Detroit, Marble Bar
25 FEB - Chicago, Empty Bottle
26 FEB - Milwaukee, Cactus Club
27 FEB - Minneapolis, 7th Street Entry
28 FEB - Omaha, Reverb Lounge
1 MAR - Denver, Larimer Lounge
2 MAR - Salt Lake City, Urban Lounge
4 MAR - Seattle, Barboza
5 MAR - Portland, Mississippi Studios
7 MAR - SF, The Independent
9 MAR - Bakersfield, Babylon BKFD
10 MAR - LA, The Echo
11 MAR - Santa Ana, Constellation Room
12 MAR - San Diego, The Hideout
13 MAR - Phoenix, The Rebel Lounge

WOLF EYES & M.U.G. x
TRIP METAL RESIDENCY x
@ UNION POOL NYC, FEB 4-6


ASBESTOS LIFE TOUR
24 OCT - Cleveland, Mahall's 20 Lanes
30 OCT - Nashville, Third Man Records
31 OCT - Atlanta, The Earl
1 NOV - Charlotte, Central Station
3 NOV - Chapel Hill, The Night Light
4 NOV - Baltimore, Metro Gallery
5 NOV - Philadelphia, PhilaMOCA
6 NOV - Richmond, Strange Matter
7 NOV - NYC, Trans Pecos
4 DEC - Miami, Churchill's

WOLF SUMMER LIVE FROM THE BOILER
16 JUL - Columbus, MINT Gallery
17 JUL - Pittsburgh, Spirit Hall
18 JUL - NYC, Union Pool FREE SHOW!
18 JUL - Brooklyn, Aviv (TRIP METAL INZANE ALL-STARZ only)
19 JUL - Portsmouth, 3S Artspace
20 JUL - Albany, The Low Beat
21 JUL - Buffalo, Sugar City
22 JUL - Cleveland, Now That's Class

"CELL BLOCK 69" TRIP METAL TOUR
11 MAR - Columbus, Double Happiness
12 MAR - Lexington, Al's Bar
13 MAR - Nashville, Exit/In
14 MAR - Atlanta, 529
15 MAR - Memphis, Glitch
16 MAR - St. Louis, The Luminary

WINTER HEATER TOUR EU 2015
4.2 NL, Amsterdam @ OCCII
5.2 FR, Paris @ Instant Chavires
6.2 CH, Biel/Bienne @ Ear We Are Festival
7.2 DE, Cologne @ Studio 672
8.2 DE, Aachen @ Musikbunker
9.2 HU, Budapest @ Guzsdu Mano Klub
10.2 IL, Haifa @ Syrup
11.2 IL, Jerusalem @ Mazkeka
12.2 IL, Tel Aviv @ Levontin 7
13.2 TR, Istanbul @ Peyote
14.2 ES, Barcelona @ Hangar
15.2 ES, Madrid @ Sirico

WEST COAST 2014
27.10 Minnesota, The White Page
29.10 Missoula, The Real Lounge
30.10 Seattle, Kremwerk
31.10 Portland, Mississippi
1.11 San Francisco, Independent
2.11 Oakland, Terminal
3.11 Los Angeles, Echoplex
4.11 Phoenix
5.11 Albuquerque, Burt's

REGRESSION (NATE YOUNG SOLO)

6.11 NYC, Union Pool (with Body/Head)
7.11 NYC, Union Pool (with Body/Head)
8.11 Philadelphia, First Unit. Church Side Chapel
9.11 Boston, Deep Thoughts

September 20
WOLF EYES: TRIP METAL HITS SAO PAULO THIS WEAKEND: SOUTH HEM SHUTDOWN: SESC Belenzinho Rua Padre Adelino, 1.000 São Paulo 03303-000 Brazil 9PM LOOKS OUT!!!

WOLF EYES AUGUST EUROPEAN "IT IS A TRAP TOUR"
Europeans please Join us: July 31-August 6th 2014 we will be looking for new #tripmetal stars
31.7 Norway, Oslo @ BLA
1.8 Poland, Katowice @ OFF Festival
2.8 UK, London @ Cafe OTO
3.8 Finland, Helsinki @ Kuudes Linja
4.8 Denmark, Copenhagen @ Mayhem
5.8 UK, London @ Cafe OTO - Henry and Hazel slaughter / Regression / Crazy Jim
6.8 UK, Brighton @ Sticky Mike's

WOLF EYES "TRIP METAL EUROPEAN TRIP"

May 30 - ES, Barcelona @ Primavera Sound Festival
May 31 - UK, Birmingham @ Supersonic Festival
June 1 - NL, Rotterdam @ Worm
June 2 - DE, Berlin @ Urban Spree
June 3 - CH, Geneva @ Cave 12
June 4 - IT, Rome @ DalVerme
June 5 - IT, Milan @ Piattaforma Fantastica (Fabbrica del Vapore)
June 6 - AT, Innsbruck @ Heart Of Noise Festival

WOLF EYES "SPRING INTO TRIP METAL TRAP CLAW"
SPRING TOUR MIDWEST APRIL 2014

April 1 - CHICAGO @ Land and Sea Dept, 3124 W Carroll
April 2 - IOWA CITY @ Yacht Club, 13 S Linn St
April 3 - ST LOUIS @ Apop Records, 2831 Cherokee
April 4 - KANSAS CITY, MO @ The Riot Room, 4048 Broadway
April 5 - LAFAYETTE, IN @ Foam City, 409 N 3rd St


March 1 - Festival Nrmal @ Mexico DF

February 7 - Berserker Fest @ Loving Touch, Ferndale
February 1 - Ventura @ Ventura Theater w/ PEAKING LIGHTS & LOADED
February 1 - Agoura Hills @ Paramount Ranch (Regression @ 3pm)

January 31 - LA @ Mount Analog (in-store w/ Regression, Henry & Hazel Slaughter)
January 30 - LA @ The Church of York
January 18 - Brooklyn @ 285 Kent


SHOWS 2013

December 6 - Miami @ Look Alive Fest, Churchills

November 25 - London, UK @ Netil House
November 24 - Glasgow, UK @ Nice'N'Sleazy
November 23 - Camber Sands, UK @ ATP (SOLD OUT)
November 22 - Bristol, UK @ The Exchange
November 21 - Manchester, UK @ Soup Kitchen


September 29 - Chicago @ The Owl
September 28 - Louisville @ Cropped Out

Fall Europe Tour
September 21 - Brussels @ Studio 58 Cafe
September 20 - Tilburg @ Incubate Festival
September 19 - Cologne @ Baustelle Kalk
September 18 - Pantin @ La Dynamo


September 7 - Columbus @ Double Happiness
September 6 - Asheville @ Broadways
September 5 - Raleigh @ Hopscotch
September 4 - Baltimore @ Metro
September 3 - Philadelphia @ Johnny Brendas
September 2 - Pittsburgh @ the Almighty Gooski's

August 24 - NYC @ Issue Project Room

July 20 - Chicago @ Bottom Lounge
July 19 - Chicago @ Rotted Tooth Fest

July 6 - Brooklyn @ St. Vitus
July 3 - Detroit @ MUG 4th of July BBQ

June 22 - Stare Case, Tiger Hatchery @ MUG Reggae Night, Detroit
June 20 - Stare Case @ Casa del Popolo, Montreal
June 19 - Stare Case @ Holy Oak, Toronto


June 2 - Austin, TX @ Chaos in Tejas @ Holy Mountain (Wolf Eyes)
May 31 - Austin, TX @ Chaos in Tejas @ North Door (Regression/Henry & Hazel Slaughter)

May 25 - Detroit @ CAID "DIRECT CONTACT" w/ Big Strick, Traag
May 21 - Detroit @ MOCAD w/ CCMC
May 12 - Madison, WI @ Dragonfly
May 11 - Chicago, IL @ Empty Bottle with Bloodyminded


APRIL EUROPE TOUR
April 17 - NL, Arnhem @ Willemeen
April 18 - BE, Antwerp @ Trix, w/ The Soft Moon
April 19 - DE, Bremen @ Friese
April 20 - CH, Neuchatel @ Queen Kong Club
April 21 - CH, Geneva @ L'Usine
April 22 - BE, Brussels @ Magasin4
April 23 - UK, London @ Corsica Studios
April 24 - PT, Lisbon @ ZDB
April 25 - DE, Berlin @ Festsaal
April 26 + 27 - FR, Paris @ Instant Chavires
April 28 - NL, Amsterdam @ OCCII, w/ Sightings

March 29 - Wolf Eyes, Cave, Chelsea Light Moving at the Magic Stick, Detroit
GRIP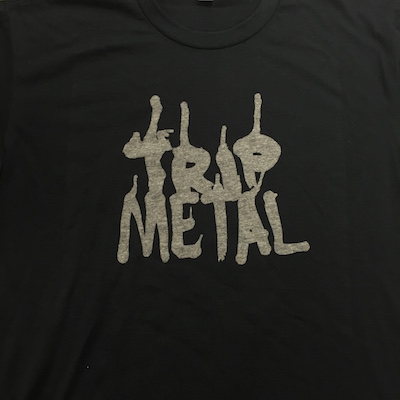 TRIP METAL REVERSE DRIPPER
T-SHIRT $15 + S/H

FINALLY!! Stuck in a cavern for months, the Trip Metal tee has festered since the fest and finally been found! Printed by VG Kids with some kinda weird ink that robs the tee of color, each one is a little bit different. The reverse dripper tee is soft, feels worn in & slightly threadbare i.e. -- vvvvery comfortable. Comes in all sizes, takes all kinds. Supplies are limited!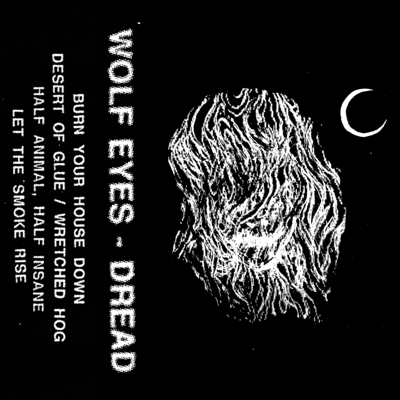 WOLF EYES - DREAD
CASSETTE + DL $10 + $3 S/H

BURN YOUR HOUSE DOWN!! Originally released by Hanson Records, American Tapes, and Bulb Records on vinyl and CD in 2001, this is DREAD. Do you want hits?! YOU GOT 'EM! Burn your house down! First time on tape, reissued by Wolf Eyes, on kid vomit yellow/green chrome cassettes -- it *is* INZANE!!







WOLF EYES - MUGGER
CASSETTE + DL $10 + $3 S/H

Originally released by Hanson Records on CD-R in 2003, this is a twisted blast of the original Wolf Eyes trio. 5 gnarly nightmares with no names, this is rarely heard & hard to come by Wolfs! First time on tape, reissued by Wolf Eyes, on Hallowe'en orange/black chrome cassettes -- it sounds INZANE!!







WOLF EYES & PBK - RABID
LP $15 + $4 S/H

Six tracks mixed by Phillip B. Klingler, aka PBK, between 2004 and 2006 using Wolf Eyes source material, this is the Wolf Eyes lineup of 2000 to 2005: Nate Young, John Olson and Aaron Dilloway. Three of the pieces on the LP were previously released in Russia on the CD, Under My Breath in 2009. Also in 2009, the American Tapes label run by John Olson released a CDR of the PBK & Wolf Eyes collaborative tracks as part of the ongoing "Live Frying" series.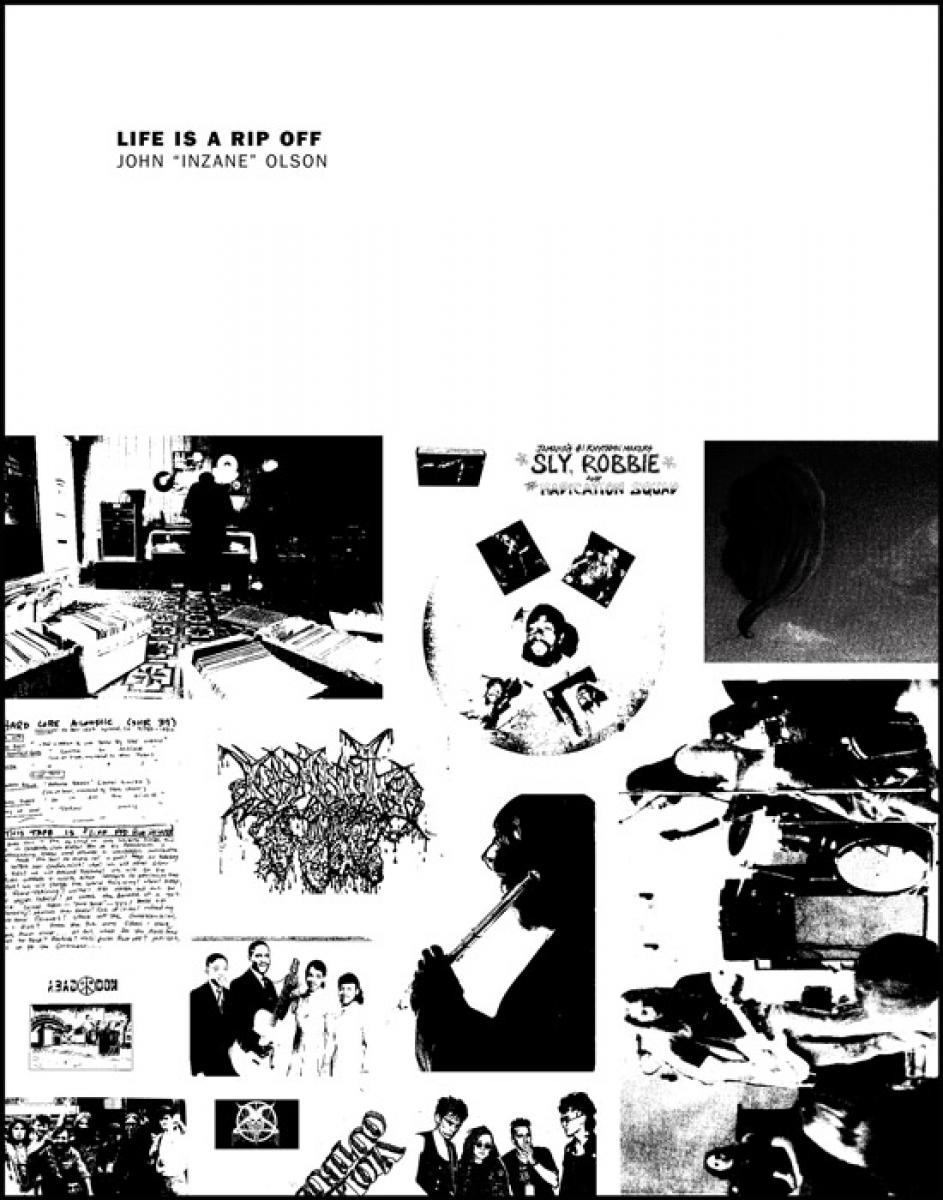 JOHN OLSON - LIFE IS A RIP-OFF
BOOK $25 + $3 S/H

404 pages and 12 months of record reviews—one record a day, every day, for one year. Yes, John "Inzane" Olson aka Inzane Johnny of the band Wolf Eyes aka American Tapes did that. And he reviewed everything from death metal demo cassettes to the Staples Singers' gospel. Enter into the OLZONE and find out about music you've never known, bands from places that you've never heard, and then read his review of KANSAS. Reading LRIP will make you re-realize why blues is relevant, why every punk band in America matters, why jazz is good for the heart, and metal will always ride by your side.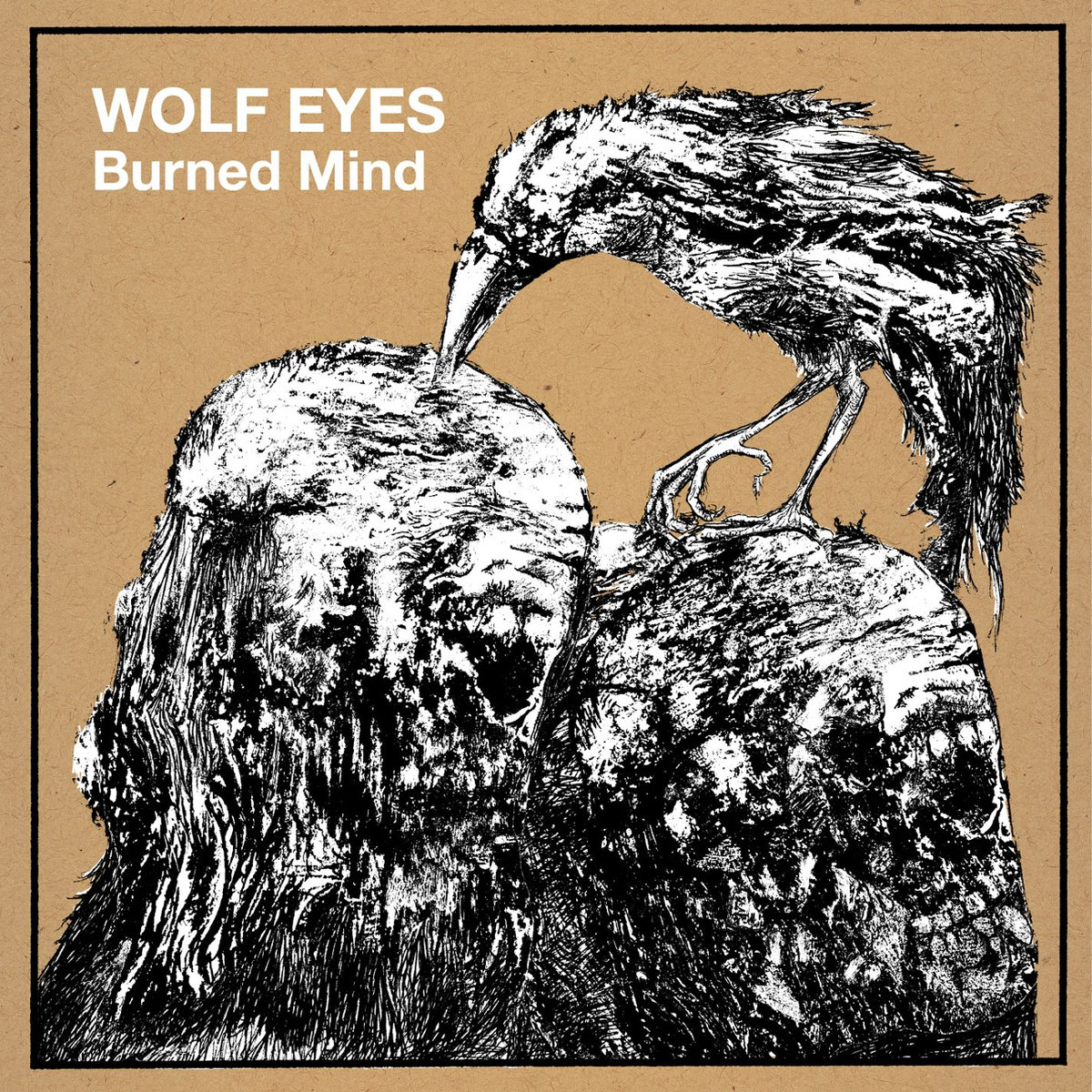 WOLF EYES - BURNED MIND
COMPACT DISC $12 + $3 S/H

LAST COPIES! Sub Pop ain't even got 'em. The trio of Nate Young, Aaron Dilloway and John Olson are the epitome of the self-sufficient musical entity. The music that Wolf Eyes creates is truly terrifying; the soundtrack to street fight that erupts into outright incineration. Sonic touchstones include Throbbing Gristle, early Cabaret Voltaire, Black Flag, Whitehouse, Pre-Asheton Destroy All Monsters, Negative Approach, Swans and early Sonic Youth.







WOLF EYES - HUMAN ANIMAL
COMPACT DISC $12 + $3 S/H

After a year of non-stop touring in support of 2004's Burned Mind, Wolf Eyes were ready; seasoned to travel through horrible new areas of sound. During one four-week period at the dawn of '06, they laid down the ideas that would shape the new album in their studio, the Terror Tank. This new slab is the first with Mike Connelly (of Hair Police and the Gods of Tundra label) replacing Aaron Dilloway. These songs are rotten with metal, reeds, consciousness-erasing islands of black doom; bass-heavy rippers, late-night free-terror jams, afflicted dog-hearts, underwater crabs: pure mayhem.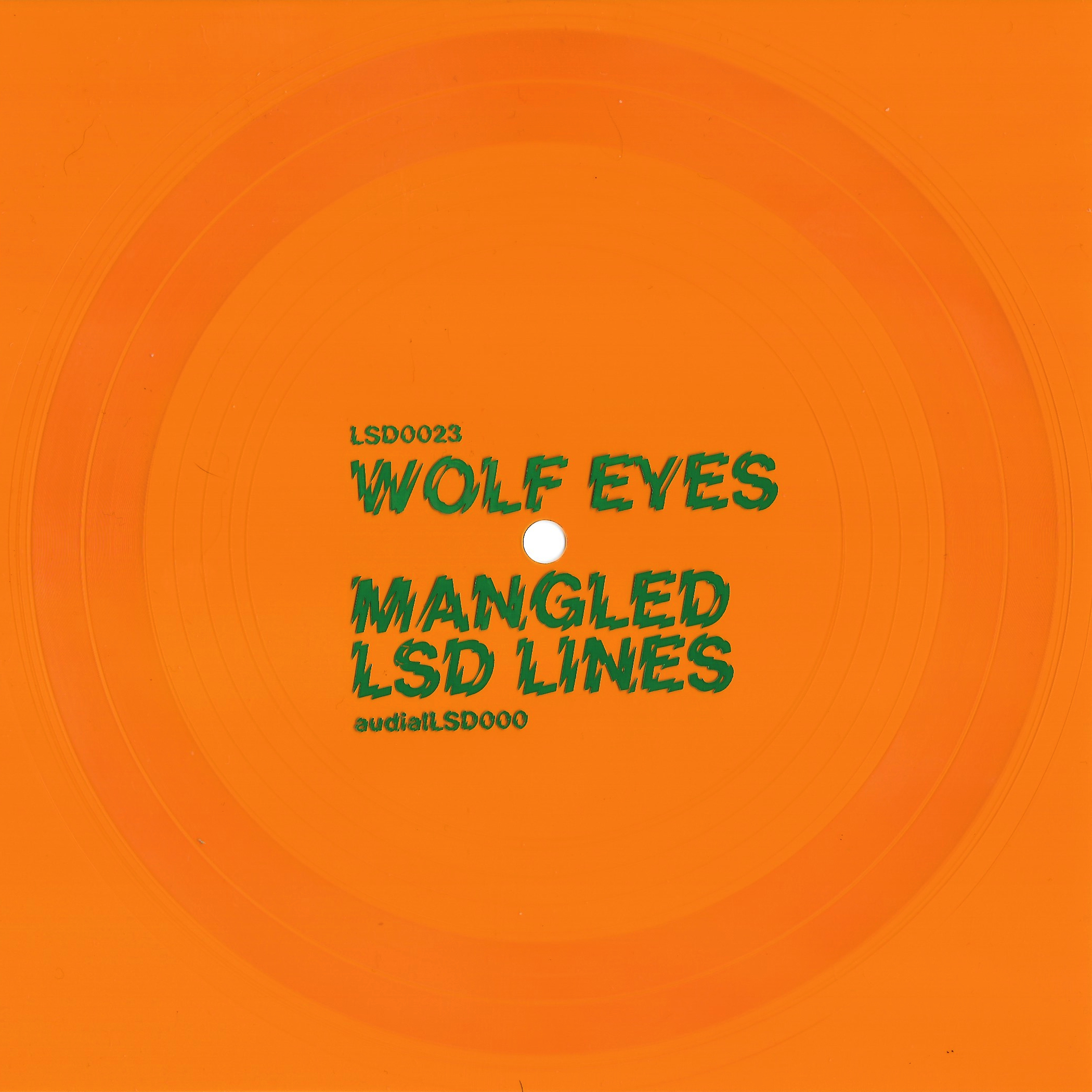 WOLF EYES - MANGLED LSD LINES
FLEXI $10 + $3 S/H

"LAND AND SEA DEPT were approached to present a 'non-traditional' performance with psychedelic skatenoise ensemble Wolf Eyes in Chicago, and used the opportunity to establish a new event series, Audial LSD, where we record a performance in a live context, and then process and reproduce it some sort of recorded format. "Engineer Jason Balla recorded the Wolf Eyes set, material that was sent back to the band for review. We ultimately decided on a one-sided flexi-disc format for the recorded piece, in blazing orange, which allows for six minutes of material. The Wolf Eyes boys reworked the material to fit within this format, delivering a burner, Mangled LSD Lines, which we then pressed in a one time edition of two hundred and fifty copies, resulting in 'audial LSD0001'."

SOLD OUT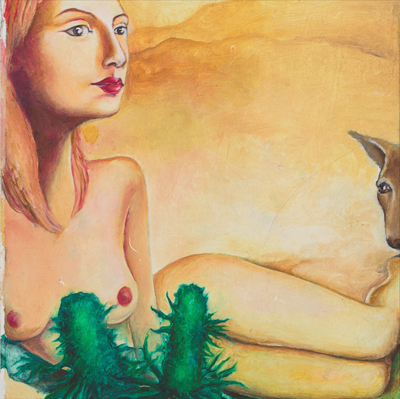 WOLF EYES - I AM A PROBLEM: MIND IN PIECES
LP / CS / CD

This record took 3 years to complete. During that time Jim went to jail 4 times and almost died from spinal meningitis. John declared "noise is dead" and pisses off the entire experimental music scene. Nate's older brother Peter Bradley Young died at age 45. Nate's family's good friend and drummer of the Stooges, Scott Asheton, died at 64. Wolf Eyes toured Israel and visited the entire experimental music underground -- radicals, atheists and a military cadet modern dance troupe performing to Slicer. Later in the year, Wolf Eyes performed at the "The Unveiling" -- the largest Satanic event in history. Michigan christian militant groups become interested in Wolf Eyes live shows.

This record does not try to directly reflect these intense and difficult times, but it cannot help being directly influenced by them. This is a bit of our bands personal history, it is not intentionally meant to be shocking, sad or scary, but it is.

Grip I AM A PROBLEM: MIND IN PIECES at THIRD MAN RECORDS.





WOLF EYES - SLICER
LP

Deep stuttering bass, high streams of electronics, rugged tape manipulation, horns, glass - this recording contains an enormous spectrum of sound. The Olson, Young, and Dilloway line-up, which lasted just 5 years, shows unusual restraint here. The calm intensity of their wildly bizarre sonic experiments and masterful compositional moves make for a rewarding repeat listen.

Wolf Eyes were looking for, finding and fleshing out new musical forms. This is deeply ambitious music made without academic pretensions. This record contains some of the most minimal programming in their catalog and the editing and mastering are nothing short of inspired. Setting an impossibly high watermark just as the noise scene was getting on its feet, few, if any, have come close to the energy and power of this recording since.

Grip SLICER at ORION READ.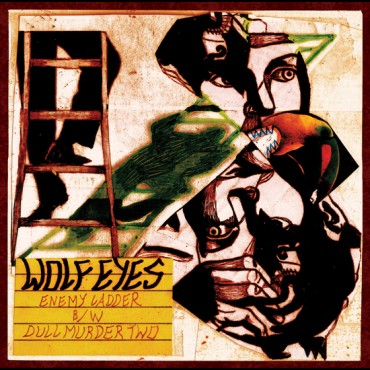 WOLF EYES - ENEMY LADDER
7"

From I AM A PROBLEM: MIND IN PIECES is "Enemy Ladder" b/w exclusive cut "Dull Murder Two".



Grip ENEMY LADDER at THIRD MAN RECORDS.